Sump Pump Installation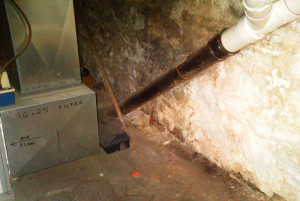 Whether you live in an area that's prone to flooding or you just want to get excess moisture out of your basement, you can benefit from sump pump installation. In and around Rockville, your best bet for installing basement sump pumps is the expert team at Quality Waterproofing, LLC. We've got more than 10 years of experience with sump pump systems, and we're ready to put that experience to work in your home or commercial space. Call Quality Waterproofing today to learn more about whether a sump pump is the answer to your basement moisture problems!
Sump pumps work in tandem with basement drainage systems. Once water is directed to the sump pump, it can be removed from the basement quickly and efficiently. Sump pump installs can protect your home or business from the problems associated with excess moisture and flooding, including:
Water damage
Mold growth
Structural deterioration
Pest infestation
Quality Waterproofing's sump pump installation team will examine your basement to determine the best location for the sump pump, so it can do its job effectively without being too obtrusive. We'll also take into account building codes and the terrain of your land. Then, we'll install a sump pump that meets your specific size and power needs. The installation process for sump pump systems includes cutting into the concrete floor to create a pit for the pump, drilling into foundation walls so water can flow out properly, and hooking up all electrical components.
Because our licensed, bonded, and insured sump pumps installation team prioritizes top-quality workmanship on every job, you can feel safe putting your basement in our capable hands. We also care about customer service. In every interaction with Quality Waterproofing, you'll deal with a friendly, polite, and professional technician who will work hard for you. Whether you need us to install a sump pump in your new home or you need sump pump repair at your workplace, we'll handle the task quickly, efficiently, and properly.
Call Quality Waterproofing, LLC, today to get a free cost estimate for sump pump replacement, repair, or installation. Our prices are among the lowest in the Rockville area, and we can work with you to create a financing plan, if needed. With affordable rates for superior work, Quality Waterproofing is the answer to your sump pump problems! Call us now.  
Battery Sump Pump Install
Standard sump pumps operate using your building's electrical power, but what happens if the power goes out during a major rainstorm? Are you stuck with a flooded basement? Not if you've had Quality Waterproofing, LLC, install a sump pump that operates via battery. Battery backup basement sump pumps are a crucial part of any comprehensive basement waterproofing and water-removal system. If you need battery backup sump pump repair, replacement, or first-time installation, look no further than Quality Waterproofing. Our pros are your first line of defense in the war against basement flooding. 
battery sump pump
Sump Pump Installer
battery backup sump pump