Mold Removal
Have you noticed dark brown or greenish-black splotches on the walls or ceiling in your basement? Does the area near your foundation have a musty odor? Have you, your family members, or your employees been complaining of a recurring cough or other allergy symptoms after being in the basement? You might have a mold problem. For mold cleanup in the Rockville area, call in the mold removal specialists at Quality Waterproofing, LLC. We've got more than 10 years of experience helping area home- and business owners get rid of mold contamination in their basements and crawlspaces, and we're ready to step in and resolve your mold situation!
Mold growth isn't just unsightly—it's also dangerous. Breathing in mold spores over time can lead to increased allergies, asthma attacks, other respiratory issues, and certain types of cancer. Mold growth can also indicate structural instability in your building, due to water damage or excess moisture in the foundation, walls, or beams. Call Quality Waterproofing today if you've noticed any of the following: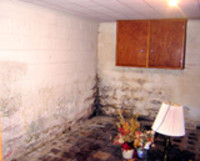 Visible or audible leaks from pipes and rainwater
Water stains on surfaces
Brown, yellow, black, or greenish-black stains
Rotting wood
Flaking wallpaper
Musty odors
Bulging or warped walls and ceilings
Visible mold growth
Whether you actually see evidence of mold or you suspect that damp conditions in your basement might lead to mold growth beneath your carpets or in your walls, Quality Waterproofing can step in and handle mildew and mold removal. As a licensed, bonded, and insured mold removal company, we've got the tools, the knowledge, and the training to get rid of mold completely. We'll start by identifying and containing the affected areas, so the mold stops spreading. Then, we'll conduct mold removal by scraping away mold, taking care not to damage your surfaces or belongings. 
Unlike other mold companies, Quality Waterproofing also specializes in moisture control and waterproofing, which means we're equipped to tackle the most important part of mildew and mold removal: ensuring that the mold never comes back. Your mold specialist will come up with a customized plan to waterproof your basement, crawlspace, or foundation to keep out the water and humidity that mold needs to thrive. Whether you need foundation crack repair or sump pump installation, we're your full-service mold removal company.
Quality Waterproofing, LLC, prioritizes high-quality workmanship on every black mold removal and basement waterproofing job. We also believe that quality mold cleanup doesn't have to break your budget. To help you plan ahead for the cost of mold and mildew removal, we're happy to give you a free cost estimate based on our assessment of the services you need. We promise to quote you some of the lowest rates among mold companies in the Rockville area.
When you know or suspect you have a mold problem, don't hesitate to call in a mold specialist like the experts at Quality Waterproofing. Mold contamination can get worse fast, especially if you have an ongoing moisture control issue in the space as well. Black mold removal and professional foundation waterproofing can make your home or business safer and healthier for everyone who uses the space. Call or e-mail Quality Waterproofing, LLC, today to set up your basement mold removal appointment! 
Mold remediation
Black mold removal
Mildew mold removal
Mold specialist
Mold companies
Mold cleanup
Mold removal company
Mold remediation companies