Foundation Repair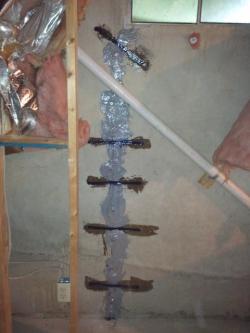 Even small cracks in your building's foundation can go on to become big problems. Temperature changes and moisture seepage can cause those cracks to grow, and eventually your building will be unstable and unsafe, on top of being susceptible to mold growth and pest infestation. That's why it's important to seek foundation repair as soon as you notice a problem. With more than a decade of foundation crack repair experience, the foundation contractors at Quality Waterproofing, LLC, are ready for the job. Call us now for a free cost estimate!
Quality Waterproofing is pleased to provide foundation repairs in and around Rockville. Unlike some foundation repair companies, we offer both commercial and home foundation repair, in new construction and existing buildings. And we don't just specialize in one or two foundation repairing techniques—we do it all, and we do it all well. Top-notch workmanship is our primary consideration, because when it comes to foundation repairs, your health and safety and the structural integrity of your building are on the line.
Depending on the state of your building's foundation, Quality Waterproofing might employ foundation repair strategies including:
Polyurethane foam injection
Epoxy injection
Carbon fiber reinforcement
Countersunk carbon fiber staples
Helical pier supports
Wall anchors
Underpinning
Vertical crack repairs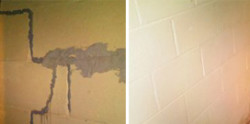 No two foundations are exactly alike, which is why we customize our foundation crack repair to your building's needs. We'll recommend a strategy and explain why that's your best option. For instance, underpinning is vital if one corner of your foundation is sinking; our foundation contractors will go in from underneath to reinforce the sinking area with braces and more concrete. The Quality Waterproofing team is also one of the only foundation repair companies in the Rockville area that offers vertical crack repair, rather than simply recommending that you replace the entire wall.
If you want to work with a reliable, knowledgeable, and affordable foundation contractor, Quality Waterproofing, LLC, of Rockville is your best bet. Our entire team of basement foundation repair experts is licensed, bonded, and insured, which means you can feel safe trusting us with your building's repair needs. Look us up through the Better Business Bureau to see how highly past clients have rated our home foundation repair services, and then pick up the phone to schedule your appointment!
Foundation Repair Cost
Hiring a foundation contractor isn't cheap, but if you're worried about keeping costs down, you can't beat the prices at Quality Waterproofing, LLC. We promise to quote you a competitive rate for the repairs you need. In addition to giving you a free foundation repair cost estimate, we can work with you on a financing plan to help you afford necessary repairs. We also stand behind our work with a comprehensive set of warranties, based on the work we do on your property. Foundation repairs only get more costly the worse the problem gets, so don't wait to call in Quality Waterproofing as soon as you notice a problem. We've been making excellent workmanship and great customer service affordable since 2009. 
Foundation Contractors
Foundation Contractor
Concrete Foundation Repair
Foundation Repair Companies