Excavating Contractor Services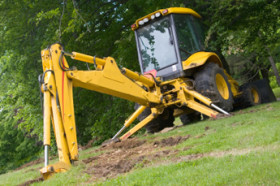 If you're ready to break ground on your new home, swimming pool, or other construction project, it's time to call the excavating contractors at Quality Waterproofing, LLC. In Rockville and the surrounding area, we promise nothing less than top-quality grading and excavation conducted by reliable professionals. We also promise that you'll find our rates to be among the lowest for excavation companies in the region. Want to know more about our excavating services? Call Quality Waterproofing now!
When you choose Quality Waterproofing for excavation, we promise to:
Prepare the soil properly for whatever structure you'll be building
Take into account the property's contours and drainage needs
Conduct all grading and excavating without causing collateral damage to your property
Use the most up-to-date excavating tools and techniques
Follow all local building codes
No matter how large or small your construction excavation job, and whether the finished structure will be residential or commercial, with Quality Waterproofing on the job you'll always get the same attention to detail, personalized service, and superior workmanship. We're licensed, bonded, and insured for excavation, in addition to being affiliated with the Better Business Bureau, and have worked hard to become one of the top excavation companies in the Rockville area since founding our business in 2009. We also offer an array of warranties for our excavating contractor services, because we stand behind our technicians' work.
Before starting your next construction or renovation project, contact Quality Waterproofing to schedule a consultation and get a free cost estimate for excavating services. You can also take advantage of our expertise in foundation repair, basement waterproofing, and sump pump installation, once construction excavation is done!
Grading and Excavation
One of the most important parts of the excavating process is ensuring that the site is properly graded. Having an excavating contractor examine the contours of your land and determine the best grading to encourage water drainage away from your building can mean the difference between a basement or crawlspace that floods constantly and one that rarely experiences moisture problems. The excavating contractors at Quality Waterproofing, LLC, have more than 10 years of grading and excavating experience, in addition to being experts in basement and foundation waterproofing. We promise to use that expertise to ensure that your soil is stable, your landscape is attractive, your building foundation is sturdy, and your basement stays dry. 
excavation companies
excavating contractors
grading excavation