Crawlspace Waterproofing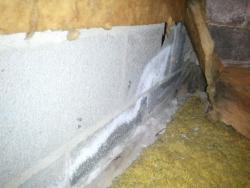 Homes that are built without a basement often have a crawlspace instead. A crawlspace is best described as a short basement, generally three to five feet tall, and is often used to access pipes and wiring beneath your building. Unfortunately, because crawlspaces are often built with soil floors, they can be even more susceptible to moisture problems than most basements and slab foundations. If you have water in the crawl space in your home or workplace, don't hesitate to call in Quality Waterproofing, LLC, Rockville's solution for crawl space sealing since 2009. We're here to help!
Crawl space waterproofing can help you avoid problems including:
Mold and mildew growth
Rodent, insect, and pest infestation
Decaying wood boards and other structural deterioration
Unpleasant odors in your building
Unhealthy air, full of pathogens and allergens
Quality Waterproofing can install a crawl space encapsulation system that will keep moisture and related hazards out. We're equipped to install crawl space sealing systems during initial construction, to stop crawlspace moisture from ever becoming a problem, and to retrofit existing properties with encapsulation systems as well. We'll install a hydrophobic barrier around the crawlspace to keep the area dry even when the surrounding soil is damp. If you already have standing water in the crawl space, we'll step in to check the area for mold spores or pests that might be thriving in the damp, dark crawlspace and then seal all cracks and seams that might be a moisture entry point.
Our licensed, bonded, and insured team is committed to bringing you crawlspace encapsulation solutions that work immediately and keep working long term. We stand behind our work with an array of warranties, and, with Quality Waterproofing on your side, you can be sure you'll be working with an expert who's friendly, professional, knowledgeable, and experienced. Call us now!
Affordable Crawlspace Waterproofing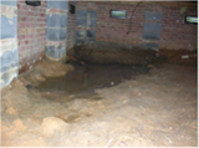 If you're concerned about the cost of crawl space waterproofing (after all, it's an area of your home no one but your plumber or electrician will ever see or use), consider how much more you could pay to deal with the fallout of crawlspace moisture. From the doctors' bills to diagnose a severe mold allergy to the cost of rebuilding a dangerously water-damaged and deteriorated section of flooring, it can be much less expensive and much safer to install a quality crawl space encapsulation system before you end up facing costly health and structural issues. Plus, when you choose Quality Waterproofing, LLC, as your crawlspace encapsulation team, you'll be getting superior workmanship at some of the lowest prices in and around Rockville. We'll even give you a free cost estimate for crawlspace waterproofing before we start work on your property. Call or e-mail us today to learn more.
crawlspace waterproofing
waterproof crawlspace
crawlspace sealing